You are here
Home
»
About the Myanmar Centre for Responsible Business
About the Myanmar Centre for Responsible Business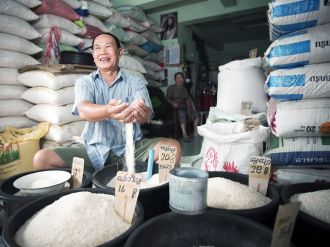 Photo: UN Photo/Kibae Park.
The Myanmar Centre for Responsible Business is an initiative to encourage responsible business activities throughout Myanmar. The Centre is a joint initiative of the Institute for Human Rights and Business (IHRB) and the Danish Institute for Human Rights (DIHR).
Based in Yangon, and headed by Vicky Bowman, it aims to provide a trusted, impartial forum for dialogue, seminars, and briefings to relevant parties as well as access to international expertise and tools.
The United Nations Guiding Principles on Business and Human Rights, which were unanimously endorsed in June 2011 by the UN Human Rights Council, are key to the Centre's mission and activities. The Centre facilitates dialogue and processes aimed at building national and local capacity and partnerships on business and human rights related issues. MCRB has also undertaken research and published sector-wide impact assessments on the oil and gas, tourism, and information and communications technologies (ICT) sectors. A SWIA on mining will be finalised soon.

Document PDF, 1524 downloads, Sep 25, 2014

Document PDF, 1004 downloads, Sep 25, 2014

Document PDF, 857 downloads, Sep 25, 2014

Document PDF, 816 downloads, Sep 25, 2014
---
Read also